Menominee Highway 712, more commonly known as The Parkway, is a partially completed roadway in south-central Menominee. All but one of the six planned segments are completed.
The route runs in a "J" shape, beginning at ME-SR 65 in Canidation and ending in Baytown at I-96.
Previous routes
Edit
Segments
Edit
Overview
Edit
Segment
Status
(Planned) completion
From
To
Length (mi)
A
Completed
1959
B
Completed
1986
C
Completed
August 2008
D
Completed
September 15, 2014
CR-69 (Midway Road)
E
Under construction
Construction began June 2014
(Fall 2016)
CR-69 (Midway Road)
CR-55 (Holiday Inn Road)
F
Completed
November 2008
CR-55 (Holiday Inn Road)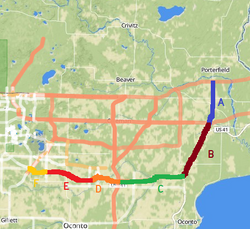 Ad blocker interference detected!
Wikia is a free-to-use site that makes money from advertising. We have a modified experience for viewers using ad blockers

Wikia is not accessible if you've made further modifications. Remove the custom ad blocker rule(s) and the page will load as expected.